This case study is derived from an internal project at a multinational company. 


Goal 
Improve customer service while minimizing operational complexity of electronics diagnostic and repair processes in retail touchpoints.


Two globally-available software solutions designed to help retail agents identify and resolve electronic product issues quickly and easily.


Role & Team
My role was Team Leader, Service Designer, and UX Designer in a team of 8 people. The team included retail strategists, customer care managers, digital infrastructure managers, and digital product managers. We also worked with a third-party software development agency.


Data analysis
Journey mapping
Concepting
Sketching
Wireframing
Contextual inquiry
Usability testing 
Identifying

and

resolving product issues was often an inefficient and challenging process in retail environments, where customers often came seeking support for their electronic products.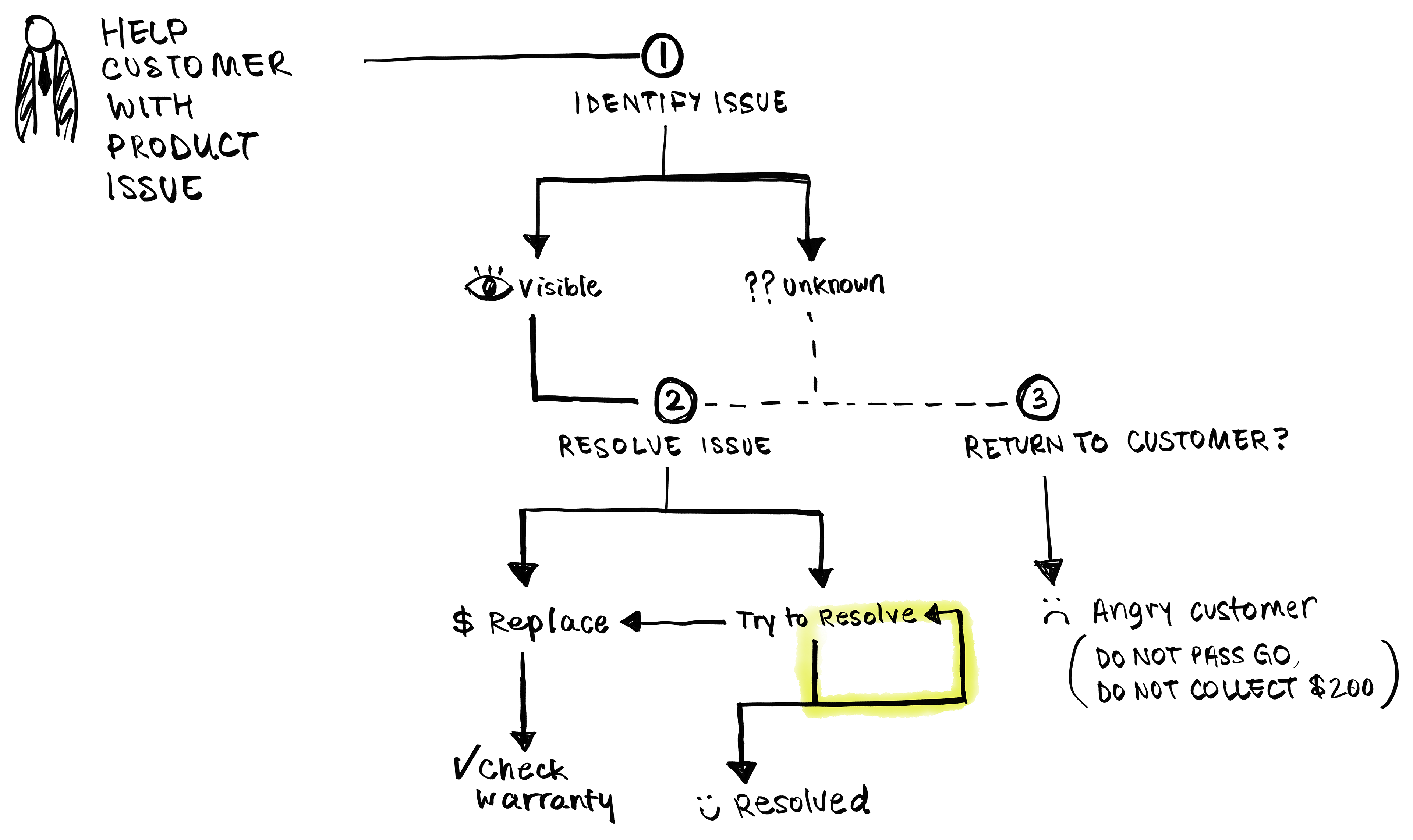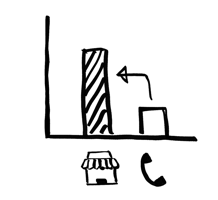 Customer care data indicated that the majority customers went directly to retail touchpoints when they had an issue with their product. Call centers, for example, redirected customers to in-person channels, where physical inspection is possible.
This impacted the business, since it meant retail agents had to be properly trained and spent more time trying to fix issues rather than explaining the products on sale to new customers.
The timeline was driven by the fact that the business was expecting an uptick in customers looking for product support after the next-gen device launch, related to firmware compatibility. 
Juniper* is a digital care solution that helps retail agents identify and resolve product issues quickly, so retail agents can focus on serving the customer instead.
How does it work? The customer's product is connected to the software. From there, the resolution engine recommends actions for troubleshooting and repair.
The software suite is composed of a Windows app and an Android app, for flexibility and easy integration across retail formats and geographies.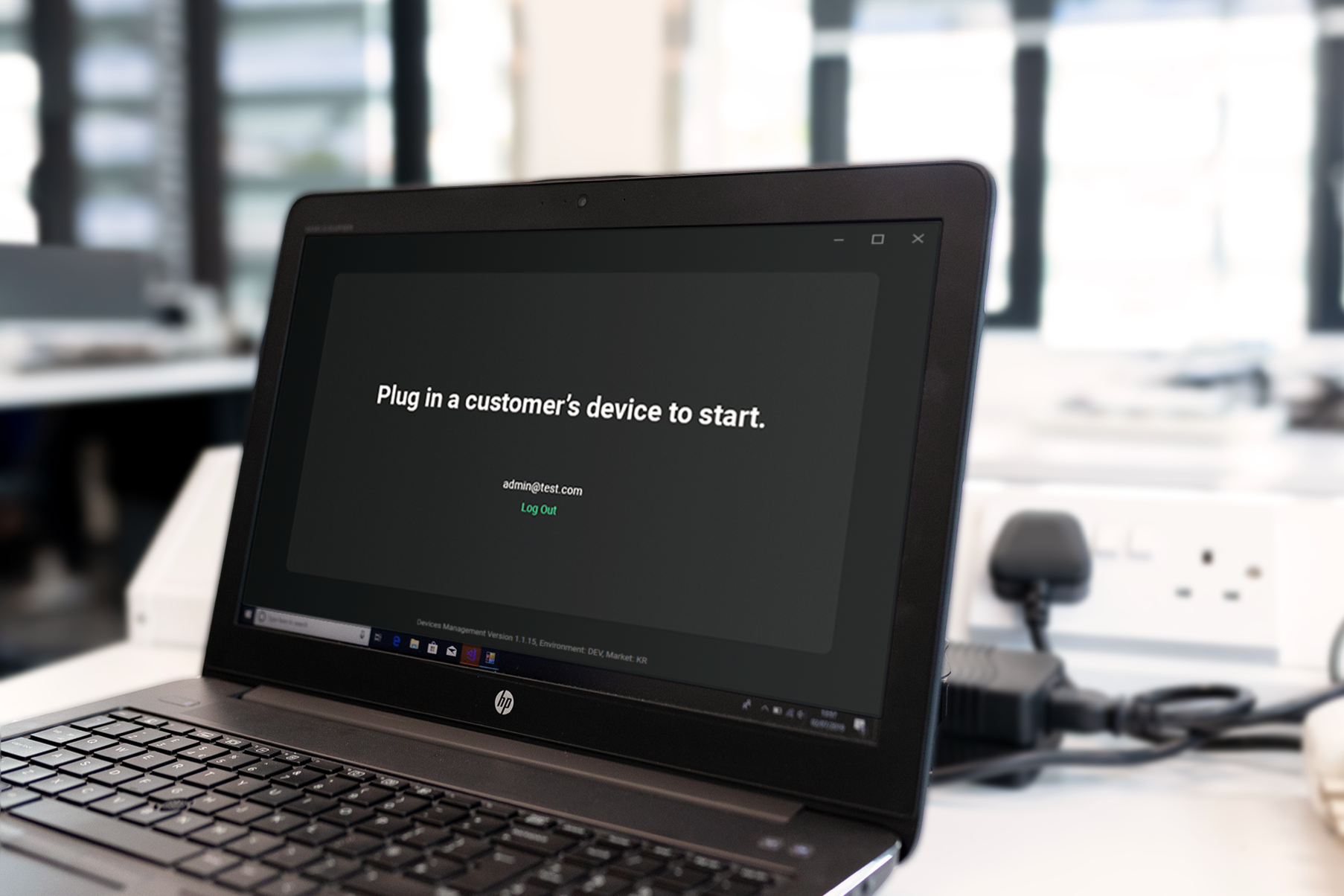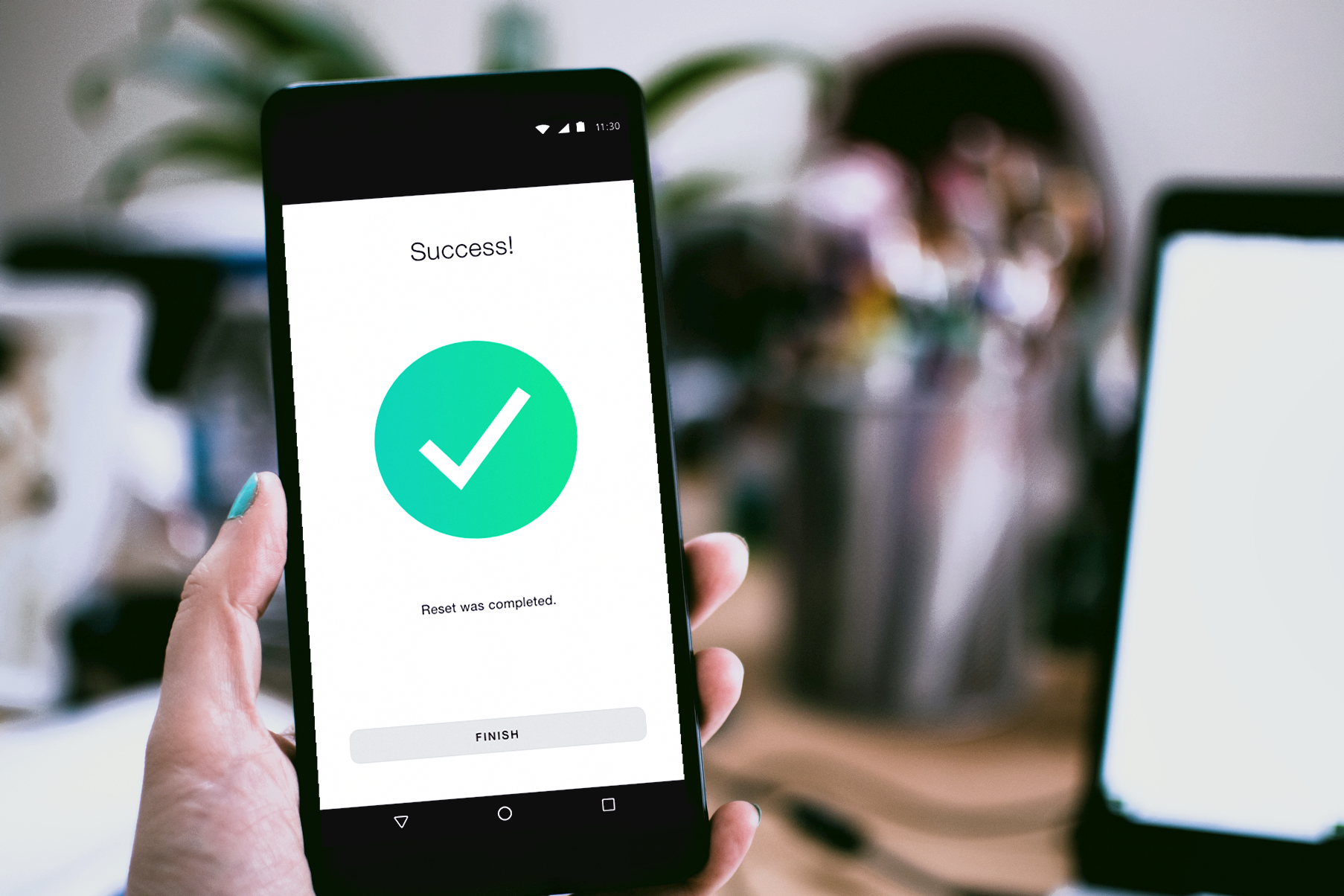 Resolution Engine v1.0, Training Materials, Future Roadmap
Timeline impact on solution choice and visual design
The timeline was a major hurdle for this project. We needed to support global availability of a multi-language MVP in 5
 months
, before the commercial launch of the next-gen device. Ultimately, this meant we had to make trade-offs. 
We needed to understand and design around existing processes and existing hardware and software infrastructure of various retail formats, which were not always consistent globally. Regulations related to data privacy also differed.


Geographically, we were far away from key global markets, which made continuous feedback from real-world environments challenging.


Data processing and privacy considerations
We consulted subject matter experts about what data was relevant, where it could be stored, and how to obtain permissions.

Problem Definition & Ideation
We started broad, fleshing out needs of both user groups, exploring contextual factors, and sketching early ideas.
#1 Empathize with my problem.
"I've spent all day unable to use the product. It was very inconvenient."
#2 Explain what happened to me.
"I'd like to know why my product broke down. If it was me, what can I do to avoid this in the future? If it was an issue with the product, has the agent resolved the issue and made the utmost to prevent it re-occurring?"
"I want to it fixed as effortlessly, cheaply, and quickly as possible."
"Today, I manually inspect products to identify what the issue is, using few visible signals. Although I've been trained on this, it takes time and effort, and I'm worried that sometimes I misjudge what the real problem is. Software issues are especially cumbersome - I have to try different things to see if any of them fix the problem."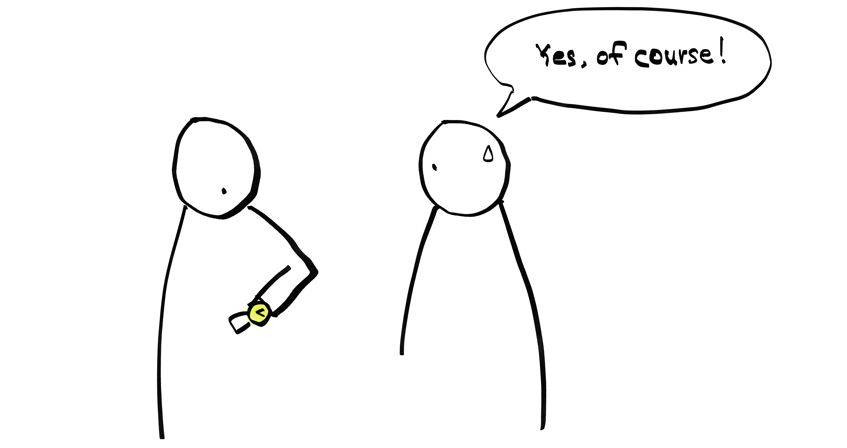 What is the current customer experience when entering the store? What are the different roles and responsibilities among staff members? How do retails agents check for errors today? How does the replacement process work? Are there differences per product?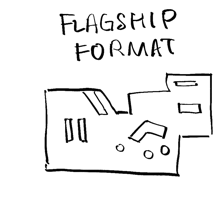 What is the range of formats and physical environments are we designing for? What type of devices and OS are used in the retail stores?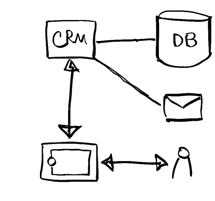 What is the current product replacement workflow, including software programs used? What about data privacy? Do we need verbal or written consent?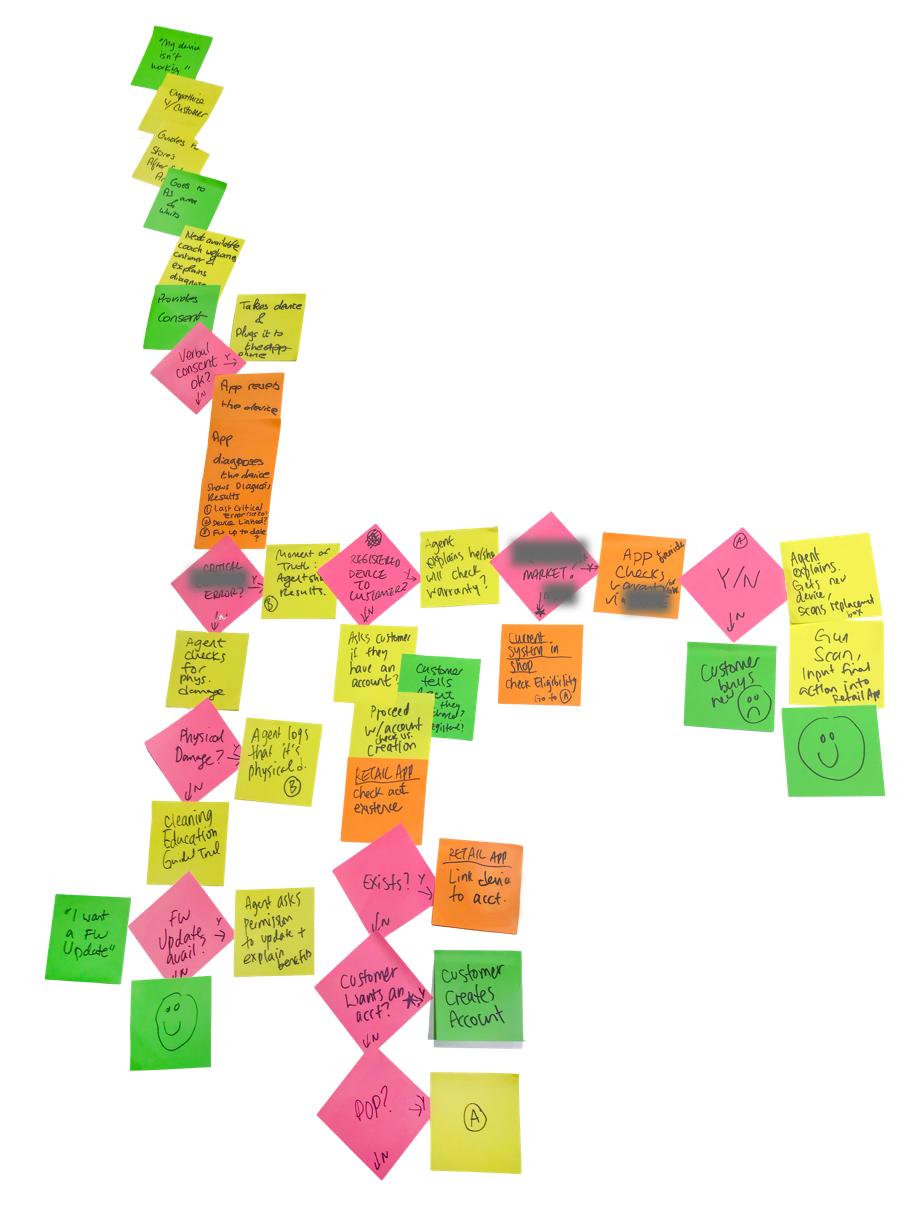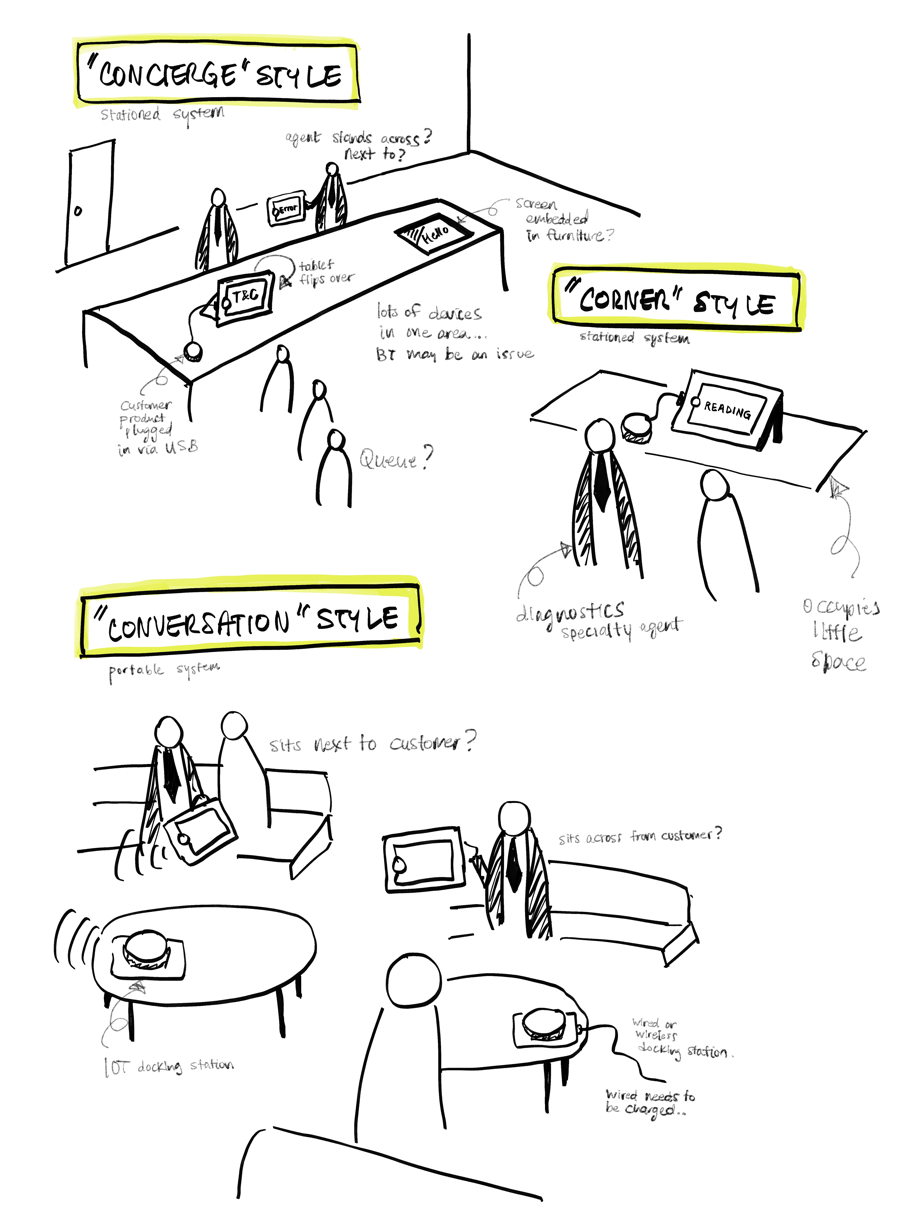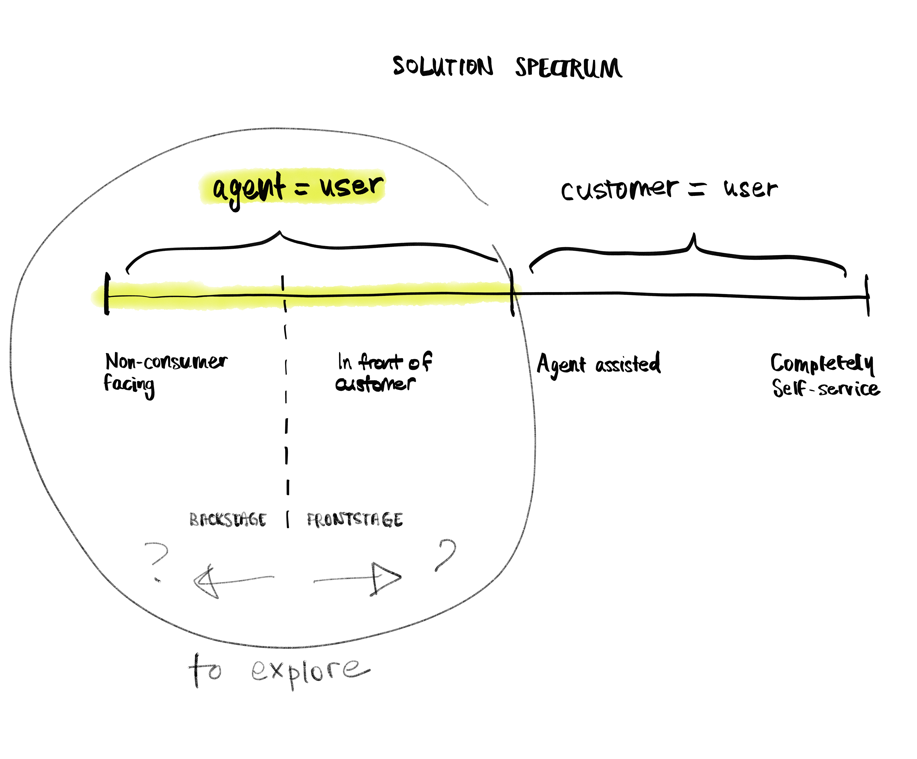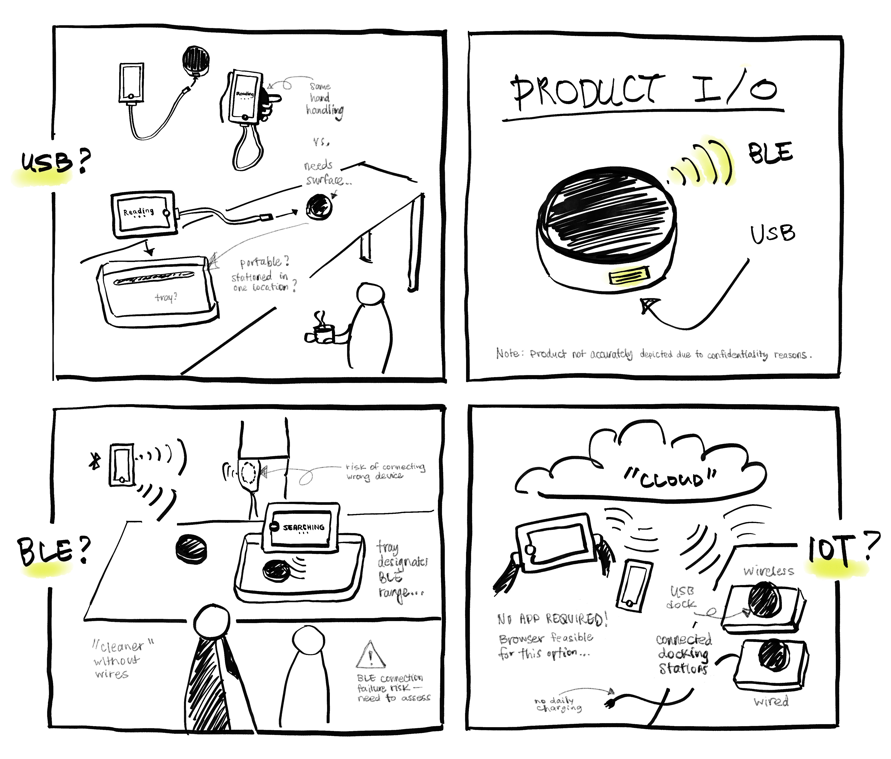 Unfortunately, time wasn't on our side. In order to minimize complexity and deployment lead-time, we narrowed down the options to a native Android app and a PC app with the same features. In addition, we repurposed modules and style guides from existing apps as much as possible.
We kept longer term ideas, such as predictive maintenance, for the future roadmap.
After narrowing down the experience and solutions we sought after, we began to design the digital interface for user testing.
To facilitate human-centered design, we used user stories to help the technical teams understand what and why we were building each feature. User stories kept the focus on helping the customer, instead of the details behind technical issues.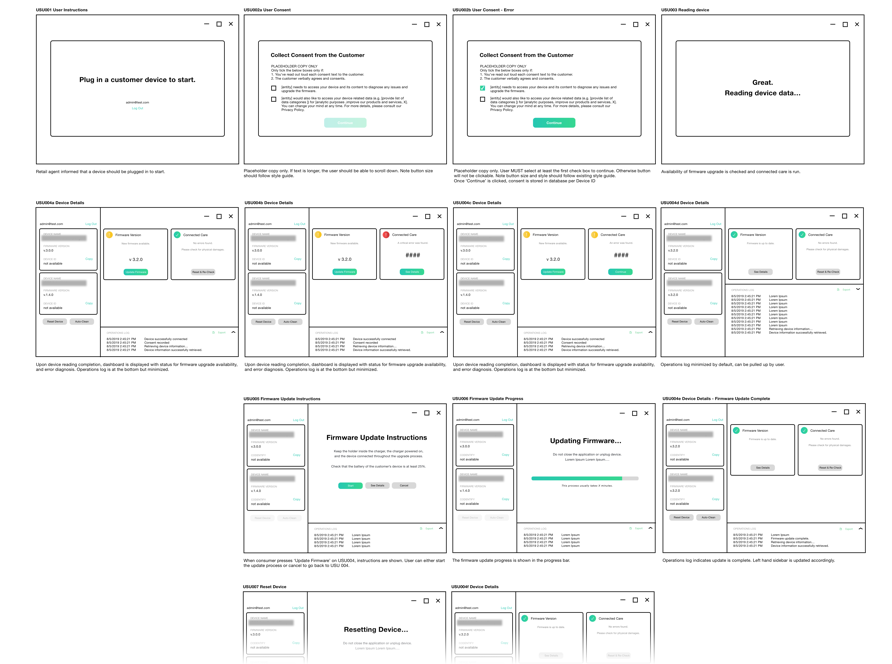 To build the logical backbone of the apps, tasks involved in identifying and resolving hundreds of different error code and product SKU combinations needed to be broken down and defined. To prevent treating each combination separately, we mapped each combination into one of four "recommendation action" groups. 
Fieldwork & Iterative Testing
We had many questions dangling over our heads before we introduced and tested a rough prototype backstage, in live retail environments.

Key Learning #1: Trust-building
Surprisingly, before the retail agents even tested the functional prototype, they showed skepticism regarding the accuracy of the diagnostics feature. This emphasized that building trust with the agents needed to be an important focus for mass adoption, as was continuous refinement of the resolution engine (which also needed a boost).
Key Learning #2: Adding depth to the problem
We underestimated how long it took for agents to successfully identify and resolve issues. Among our timed observations, the average time agents spent per customer was 22 minutes, and could go up much higher depending on the product issue.
What type of product issues took longest? Interviews revealed that intermittent issues (those that were temporarily gone by the time customers visited the store) were most difficult to identify. 
Key Learning #3: Related pain points
Interviews and observations revealed a few small pain points that we could easily improve by introducing a digital solution e.g. the task of manually entering device #s.
Key Learning #4: Inconsistencies across countries
In practice, "seamless integration" with the replacement process was trickier than we initially hoped. Each country had their own process for replacements, and experiencing the differences first-hand made it clear that we could not implement a one-size-fits-all solution without a complete overhaul of the system.
Research Impact & Results
Research revealed that agents were excited by the solution and perceived it as beneficial to their workflow. It also helped us to refocus some of our efforts for the project deadline.
Continuous engine improvement 
The resolution engine needed rigorous testing to improve and become trusted by our users, so we set up a task force to address the accuracy and consistency of the diagnostics results. We also agreed that before debuting the tool in front of customers, we would initially keep usage backstage. 
To tackle the most challenging scenario for retail agents – 'intermittent issues' – we chose to include not only the current error, but the error history.
We also adjusted the hierarchy of content and features based on the pain points discussed in the interviews. For example, we surfaced the device # prominently and implemented a copy-to-clipboard button.
Last but not least, the research helped limit the scope in other areas. Due to differences between processes and workflows between countries, for example, we deprioritized features like warranty eligibility check. 
Windows Application 

​​​​​​​
Android Application

​​​​​​​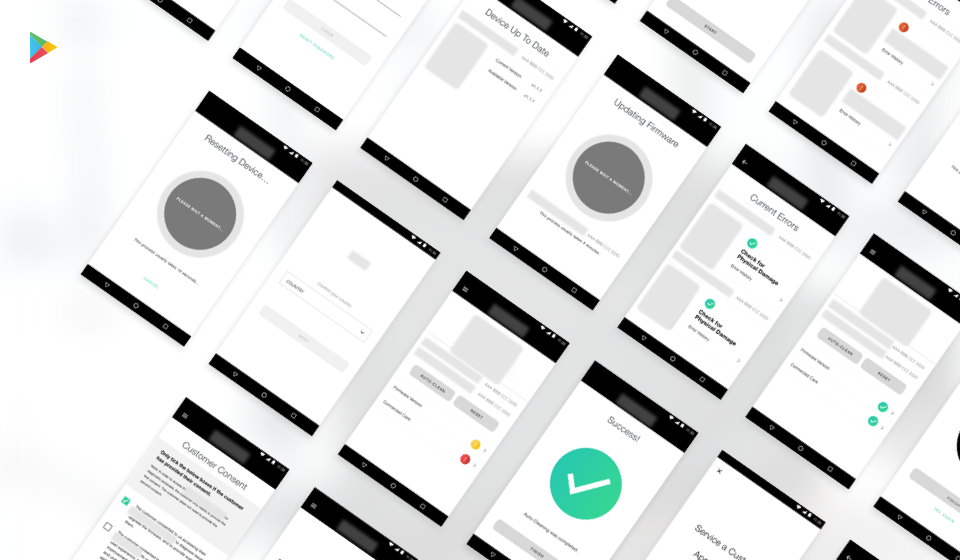 Next
Doctor Patient Consultation